Whats Open? Click Here to See!
What's Opened since Hurricane Sally
PENSACOLA BEACH IS OPEN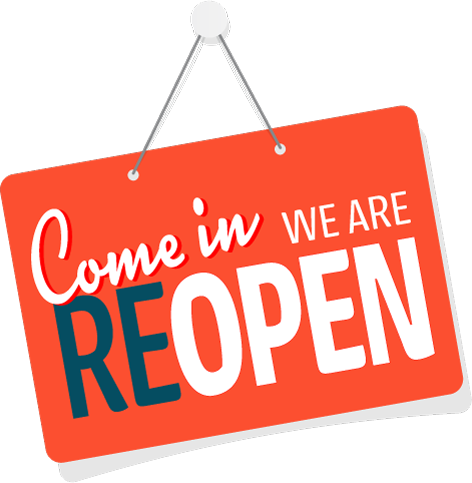 Is Your Business Open?
We are still manning the Pensacola Beach Visitor Center phones and answering questions for residents, owners, and visitors.
Please email us at info@visitpensacolabeach.com and provide any updated info for your business.
Beach Business and Off Beach Partners
Updated 3/23/2021 9:25 AM
Pensacola Bay Bridge (3 mile) closed
399 to Navarre is Open
Bob Sikes Bridge OPEN both lanes.
Tolls are working on Pensacola Beach.
Park East and Park West (Dog Beaches) are open
Ft Pickens is Open
Ft Pickens Fishing Pier is Open
Adventures Unlimited (Milton) - Open year-round, 7 days a week, with current office hours between 9:00am-4:00pm
Adventure Sailing Tours- Open
Bay bridge Chiropractic- Open
Bamboo Willie's- Open
Best Western Beachside Resort - Closed until further notice
Boogie Inc - Open
Café Nola - Open 11 am to 6pm
Casino Beach Bar and Grille – Open
Chase-N-Fins Dolphin Cruise- Open
Condor Sailing Adventures - Closed until further notice
Crabs - Open 11 am to 10 pm Sunday Brunch starting at 1030 am
Drift - CLOSED until further notice
Dolphin Cruise- Open
Fast Eddies (Pensacola) - Open 3pm to 9pm
Fish Heads - Open Tues.-Sat. 12 pm- 8 pm Closed Sundays and Mondays
First Dance Ballroom Studio- Open Call for appointments
Flounders Chowder House - Open 12 pm- 2pm and 5 pm to 7 pm
Frisky Dolphin - Open
Fun in the Sun Vacation Rentals- Open
Fusion Spa- Open
Gulfarium - Open 9 am to 430 pm
Gulf Breeze News- Open
Gulf Coast Brewery (Pensacola) - open regular hours
Hampton Inn - Open
Hemingway's is closed
Head N Scales Fishing Charters- Open
Hilton Pensacola Beach - Open
Holiday Inn Express Pensacola Beach - Closed until further notice
Holiday Inn Resort Pensacola Beach Gulf Front- Open
Hooters- Open
H02 Pensacola Dolphin Tours- Open daily
Innerlight Surf on Pensacola Beach Pier- Closed until March 2021
Islander Beach Bar- Open
Joe Patti Seafood- Open
Jolly Sailing- Open
Lapayita- Closed until further notice
Lagunas Adventure Park & Beach Bar & Grill - Open
Lazy Days- Open
Margaritaville Beach Hotel - Open
McGuires Irish Pub- Open
Miles Antiques- Closed until further notice
Native Café - Open 7:30 - 2:00 Closed Mondays and Tuesdays Masks required
Our Lady of Assumption Pensacola Beach- Open, Mass Sun 945 am
Paddy Olearys Irish Pub - Open 11 am-230am
Panera Bread- Open Monday - Thursday 6 am-8pm Friday 6am -9pm Saturday 6 am-9pm Sunday 6am-8pm
Papas Pizza - Open 11 am - 8 pm Mon thru Thurs and Sunday 9 am - 8 pm
Paradise Beach Homes - Open
Paradise Inn - Open Bar and Grill 11 am Office is Open for limited reservations
Peg Leg Pete's - Open 11 am
Pensacola Beach Charters- Open
Pensacola Bay Cruises- Operations have stopped until further notice
Pensacola Beach Gulf Pier- Closed
Pensacola Beach RV Resort- Open (Limited Reservations)
Pensacola Sports- Open
Radical Rides - Closed for the season.
Red Fish Blue Fish - Open from 11 am to 10 pm
Reel Eazy Charters- Open
Riptides- Open
Ron Jon Surf Shop- Open 6am - 7 pm
Sams Fun City- Open
Sandshaker - open as usual!
Santa Rosa Island Authority (SRIA) - open as normal
Shaggys- Open 11 am to 9 pm
Shrimp Basket- Open
Sneaky Tiki Bar- Open Daily 1pm-9pm
Sidelines - Open
Spring Hill Suites - Closed until further notice
Soundside Holiday Beach Resort- Open
Step One Automotive- Open
Surf & Sand Hotel - Open
Troy University- Open (Support Center)
The Break Beach Bar- Open 11am to 12 pm
The Breeze 8 (Gulf Breeze) - Open 12pm to 10pm
The Dock- Open
The Grand Marlin- Open 11am - 8pm
Island Times- Open
The Islander Lounge and Package- Open
Pensacola Beach Visitors Center - Open (Mon - Sat 9 to 5pm, 10 to 3 Sun)
Underwood Anderson Insurance- Open
Water Pig – Open 11 am to 10 pm