Partner News - May 25th, 2021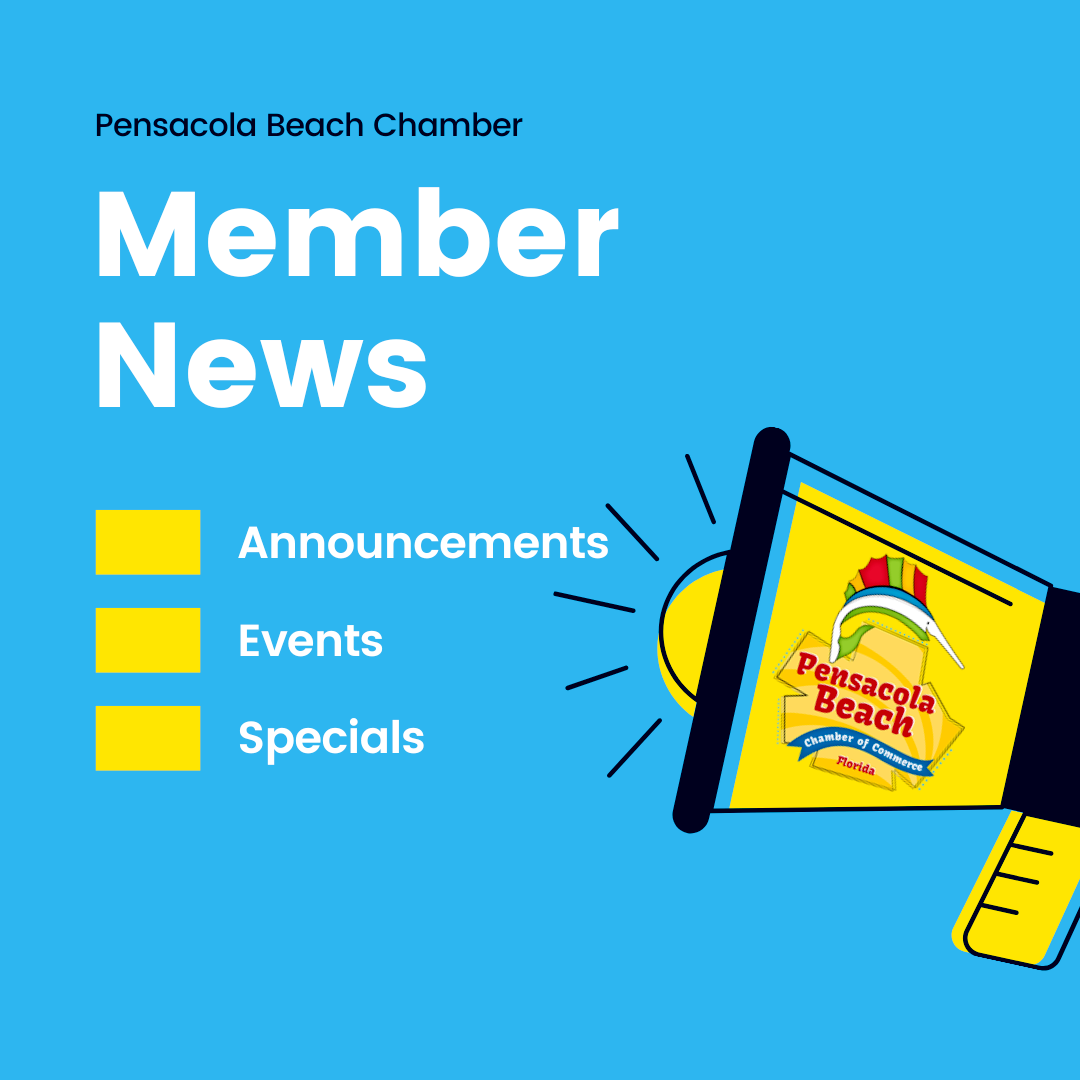 Welcoming to the Chamber:










Grocery Concierge & Organized Occasions










Upcoming Events:




Beach to Breeze BINGO now thru 5/27

Bands on the Beach Every Tuesday from 7:00 PM - 9:00 PM at the Gulf Side Pavilion

Art Walk Every Sunday from 11:00 AM - 6:00 PM at the Pensacola Beach Board Walk




5/20 Beach Ball Breakfast 7:30 AM - 9:00 AM at Red Fish, Blue Fish

5/20 Ribbon Cutting for H02 Dolphin Cruises latest vessel, Maxine. Pensacola Beach Marina @ 9:30 AM

5/25 Bands on the Beach: Karli Ryan 7:00 PM -9:00 PM @ Gulf Side Pavilion

5/30 Family Fun Fest/Fireworks at the Pensacola Beach Boardwalk

JUNE

6/8 Business After Hours 5:30 PM - 7:00 PM at the Sneaky Tiki

6/12 Pensacola Beach Junior Life Guards Try Outs, 7:30 AM Quiet Water Beach


















Grocery Delivery Service Expands to Pensacola Beach
Your Vacation Start Sooner with Grocery Concierge
Visitors to Pensacola Beach are now able to vacation without stopping to shop for groceries, beverages, and other supplies. Online ordering is easy, and deliveries are made by coordinating with property managers for access to the units. Supplies are delivered and arranged in the units before the family arrives.
When visiting a new area knowing where to shop is often one of the most asked questions and finding local specialty markets can be even more challenging. A locally owned delivery service can save visitors several hours of their vacation time shopping in unfamiliar stores with different layouts and making multiple stops to get everything needed. With increased traffic and limited access on and off the island, using Grocery Concierge will give families back their first day of vacation.
Visit www.Grocery-Concierge.com to complete an online Grocery Delivery form to schedule a delivery. Meal Planning tools available online and Blog articles provide ideas for vacation meal planning and other travel-related topics along with links to local businesses.
"As a concierge service, we are committed to helping our customers not only shop for groceries and supplies but also providing guidance on quantities needed, introduce local merchants and products, and suggest easy to prepare items and recipes."