Partner News 9/30

Is Your Business Open?

We are still manning the Pensacola Beach Visitor Center phones and answering questions for residents, owners, and visitors.




Please email us at info@visitpensacolabeach.com and provide any updated info for your business.
* Click Here To See Who is OPEN *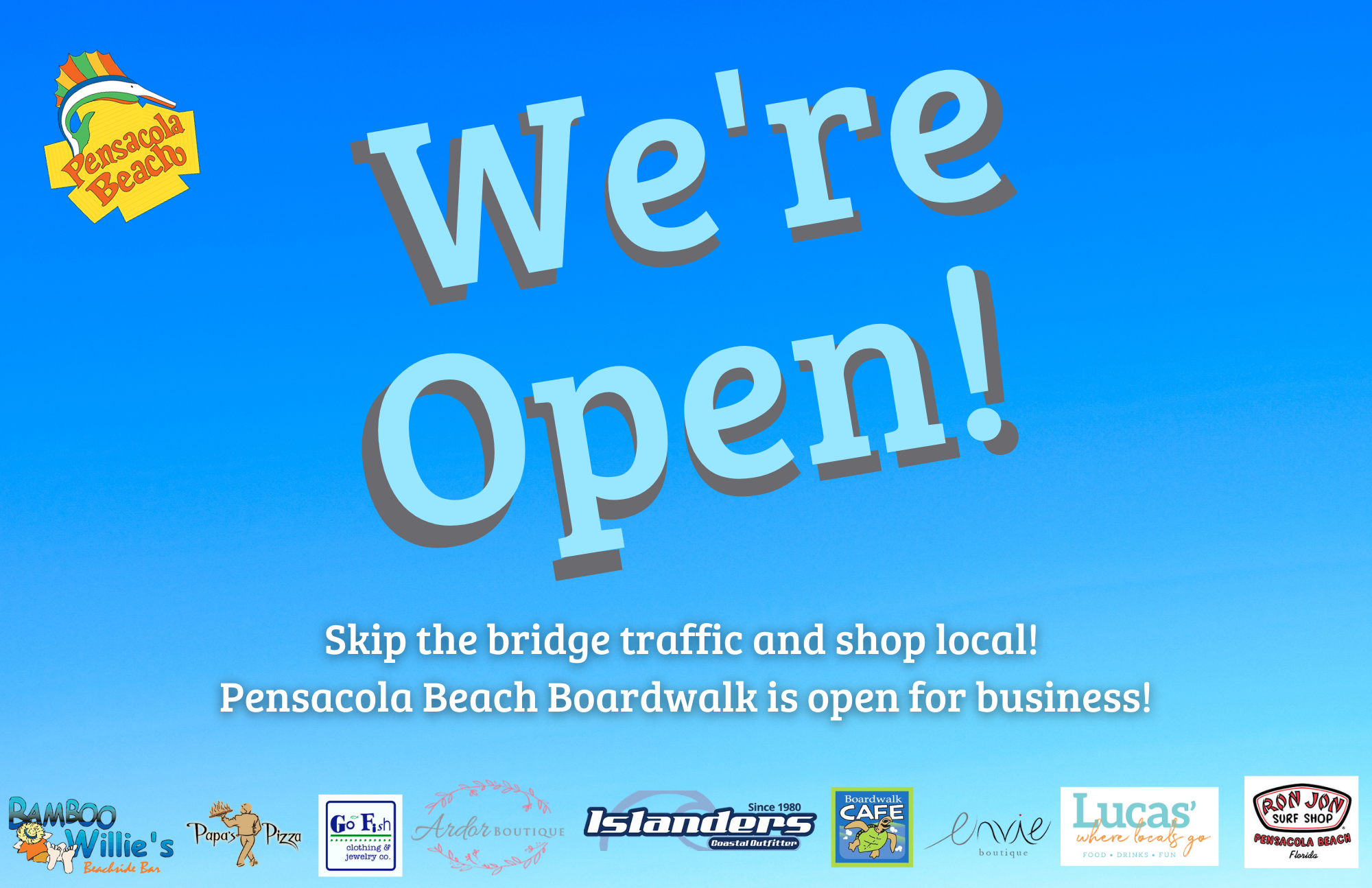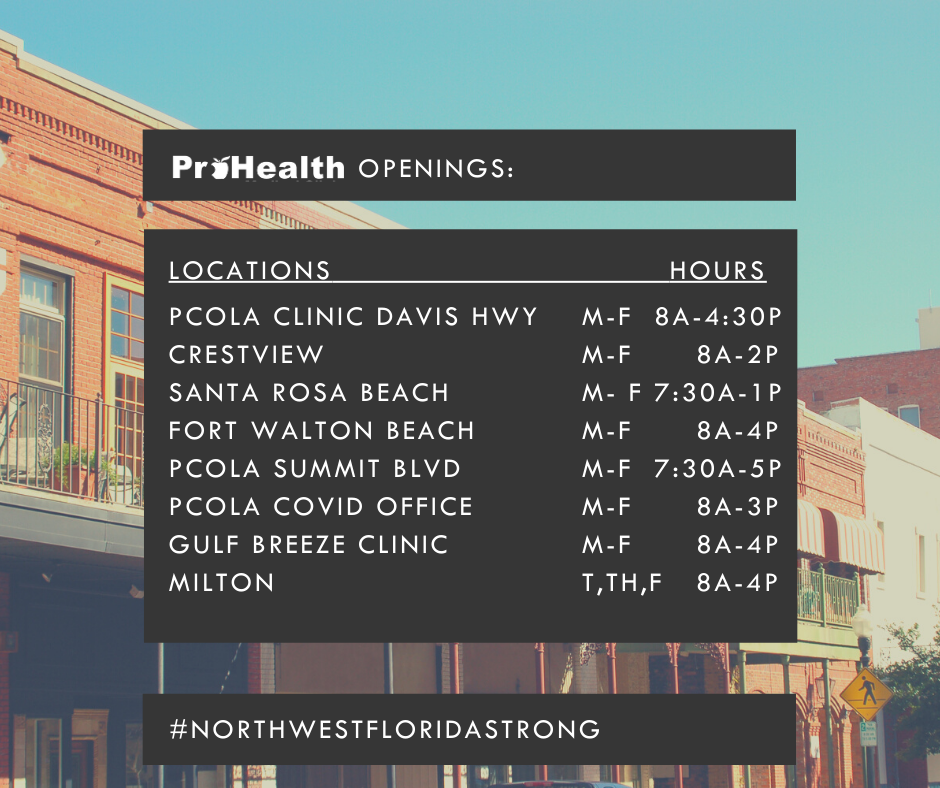 Info & Resources
Local Elected Officials Send Letter to President Trump Requesting Individual Aid for Hurricane Victims
Several Escambia County elected officials co-signed a letter to President Trump requesting that individuals impacted by Hurricane Sally be able to apply for federal assistance.
Click
here
to read the letter.
---
Escambia County Hosting Job Fair for Hurricane Sally Recovery Workers Today
Another job fair will take place in Escambia County on Tuesday for workers for Hurricane Sally recovery. Applications are still being accepted for debris monitors. The job pays $1,000 per week for 12 hours per day, seven days a week.
---
Building Services to Host Workshop Wednesday Regarding Storm Damage
Building Services will host a free educational workshop Wednesday, Sept. 30 from 3:30-5 p.m. at the Central Office Complex, 3363 West Park Place, regarding tips on how to proceed with severe structural damage to your home or property.
Another workshop will be held the following week on Pensacola Beach.
For additional information about the workshop, call Escambia County Building Services at 850-595-3550.
---
Florida Small Business Emergency Bridge Loan Program Activated
The Florida Small Business Emergency Bridge Loan program has been activated. The Florida Small Business Emergency Bridge Loan program provides short-term, zero-interest working capital loans that are intended to "bridge the gap" between the time a disaster impacts a business and when a business has secured longer term recovery funding such as federally or commercially available loans, insurance claims or other resources.
Loans up to $50,000, or up to $100,000 may be requested in special cases as warranted by the need and evidence of the business, per eligible applicant. Loans made under this program are short-term, personal loans using State of Florida funds – they are not grants and must be repaid.
You can apply for the Florida Small Business Emergency Bridge Loan
online
or visit one the Florida Small Business Development Center's Business Recovery Centers listed below.
You can learn more about the loan program
here
.
Florida SBDC at UWF - Business Recovery Centers
Hours are 9:00am to 4:00pm
Perdido Key Area Chamber of Commerce
Florida SBDC at UWF (SCI Building)
220 W. Garden St. Suite 301
Florida SBDC at UWF (UWF Building 8)
Gulf Breeze United Methodist Church
Santa Rosa County Economic Development
Florida SBDC at UWF (Synovus Bank)
815 Beal Parkway NW, Suite A
Fort Walton Beach, FL 32566
---
Santa Rosa County Small Business Economic Recovery Grant
Santa Rosa County has allocated a total of $2.6 million of CARES Act funding to provide grants of up to $20,000 to eligible small businesses. In partnership with the Florida Small Business Development Center, applications will be reviewed on a first come, first served basis. The application period begins on September 28 at 8 a.m. and closes on October 16 at 5 p.m. Applications received before or after the application period will not be reviewed.
Santa Rosa County has increased the grant amount tiers to ensure that businesses can make a quicker recovery.
$10,000 for small businesses with 0-25 employees

$20,000 for small businesses with 26-100 employees
There will also be an
informational webinar
with the Florida SBDC on Friday Sept. 25 from 10 - 11 a.m. to guide small business owners in applying for the grant. The webinar will address correctly filling out the application and supporting documents. A recorded version will be made available on the website following the webinar.
Applicants will receive notice of approval or denial as soon as their applications have been processed. Only eligible and completed applications with required supporting documentations will be accepted. Grant funding will be disbursed from the Santa Rosa County Grants Department by check via mail to the business's listed address.
For more information, contact the SBDC at
sbdc@uwf.edu
or by phone at (850) 474-2528.
---
Escambia County Information
Visit www.myescambia.com/stormcenter for all Escambia County, Florida updates.
Business Damage Assessment Survey
The Florida SBDC Network, the state's principal provider of business assistance, strongly encourages small businesses in the Florida Panhandle impacted by Hurricane Sally to complete the state's Business Damage Assessment Survey.
The survey, administered by the Florida Department of Economic Opportunity (DEO), is not an application for disaster assistance, but rather assists state officials in determining the extent of impact and need for federal and state disaster assistance.
PERMITS
Theresa from Escambia County Building Inspections is set up in our meeting room each day until (not sure). She will be issuing permits for emergency repairs per, the emergency order from 8:00 to 3:30.
Online road closure resources:
Check for Escambia County road closures 24/7 at www.myescambia.com/roadissuesmap.
The city of Pensacola road closures can be viewed here.
For the latest closures and updates, travelers can access Florida's 511 services from cell phones, landlines, and online at www.FL511.com.
Fuel Access
Download the Gas Buddy App to find gas stations that are open and that have fuel.
Report Price Gouging
Report price gouging to 1-866-9-NO-SCAM (1-866-966-7226)
Visit www.MyFloridaLegal.com to find consumer tips or to file a complaint.
Tarps, Mold, Garbage
Escambia County Administrator Janice Gilley announced that residents may call 904-253-9924 (Southern Baptist Disaster Relief volunteers) to request help with installing tarps, mucking out home and mold remediation.
Debris pick-up will begin September 23 and likely take at least 90 days. Panhandle Paving and Grading will be providing the service on the Beach.
Waste Services
As Escambia County continues its recovery process in the wake of Hurricane Sally, Escambia County residents that can safely do so are asked to place any storm-generated debris on the public right of way.
The public right of way is the area of residential property that extends from the street to the sidewalk, ditch, utility pole or easement. Residents are urged to separate the debris as follows:
Vegetative Debris

(whole trees, tree stumps, tree branches, tree trunks and other leafy material)

Construction and Demolition Debris

(damaged components of buildings and structures such lumber and wood, wall board, glass, metal, roofing materials, tile, furnishings, and fixtures)

Appliances and White Goods

(refrigerators, freezers, air conditioners, heat pumps, ovens, ranges, washing machines, clothes dryers and water heaters)

Electronic Waste

(computers, televisions, office electronic equipment, etc.)

Household Hazardous Waste

(materials that are ignitable, reactive, toxic or corrosive such as paints, cleaners, pesticides, etc.)
Only loose debris will be collected; bagged debris should not be placed on the public right of way. Make every attempt to avoid stacking debris below low hanging power or utility lines.
Do not place debris within four feet of:
Mailboxes

Water meters

Fire hydrants

any other above-ground utility
Only debris placed on the public right of way will be eligible for collection until further notice. If all debris is not picked up during the initial pass, please continue to push remaining debris to the right of way for collection on subsequent passes.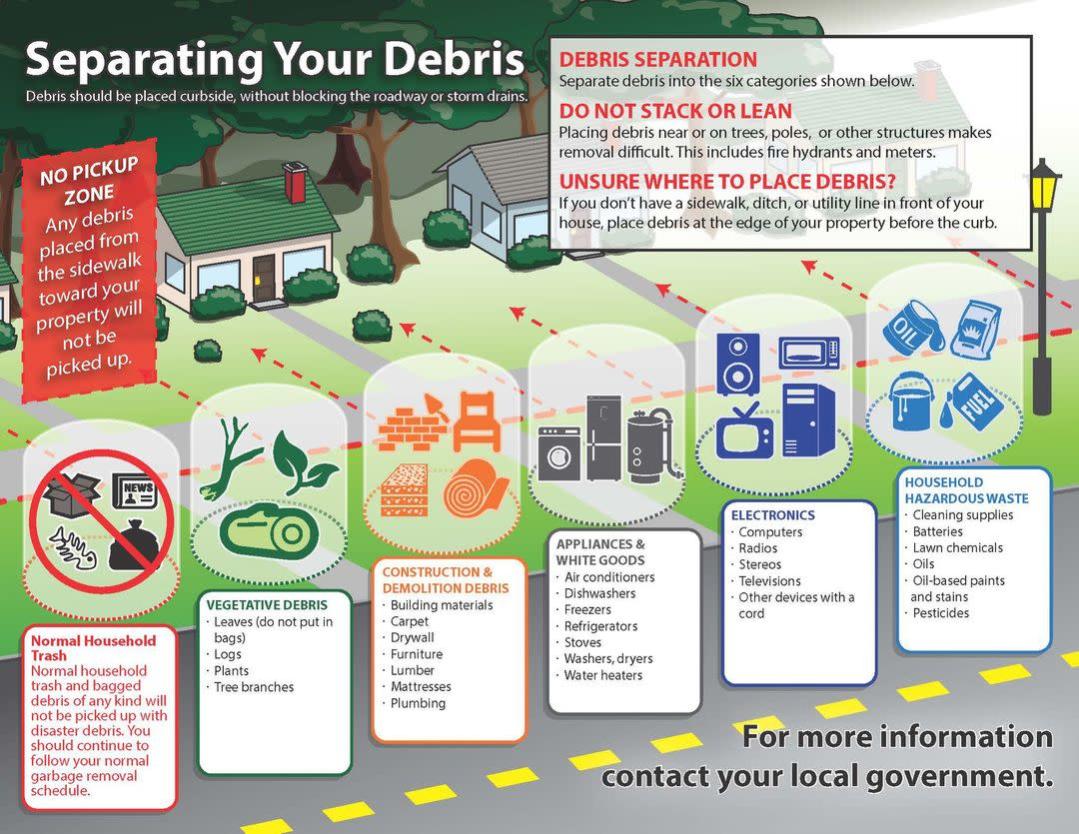 Gulf Power Updates
Huge thank you to Gulf Power and all of their partners from around the country that have been working tirelessly to get the power back on to all in our community. Visit their storm website here for current information on outages and restoration information.
Please do not call 9-1-1 to report power outages. Gulf Power knows when your power is out. You can track outages on their outage map from your smartphone on the Gulf Power Outage Map or report power outages online here.
Never touch a fallen power line and assume all wires on the ground are electrically charged.
Emerald Coast Utilities Authority
Effective immediately, the Emerald Coast Utilities Authority is issuing a system-wide Precautionary Boil Water Notice (PBWN) to its water system customers. This notice is in response to the significant and wide-spread damages sustained from Hurricane Sally. ECUA crews are already out in the field working to locate, isolate, and repair main breaks in order to restore service as quickly as possible. Although the majority of our customers remain in service, there are too many main breaks that require a PBWN for it to be practical to issue separate notices during this initial emergency response. Once the number of pending repairs is significantly reduced, the ECUA will revert to issuing separate notices for individual areas. We ask for our customers' patience and understanding as we work to repair hundreds of breaks, giving priority to our hospitals, dialysis centers, and other critical care facilities.
Residents are advised to boil water for one minute at a rolling boil or to use 8 drops of regular unscented household bleach per gallon of water, for water to be used for drinking or cooking purposes.
More information on precautionary boil water notice and key guidelines are available on the ECUA website at ecua.fl.gov/live-green/our-water-supply
Water Boil notices will be rescinded when within FDEP limits.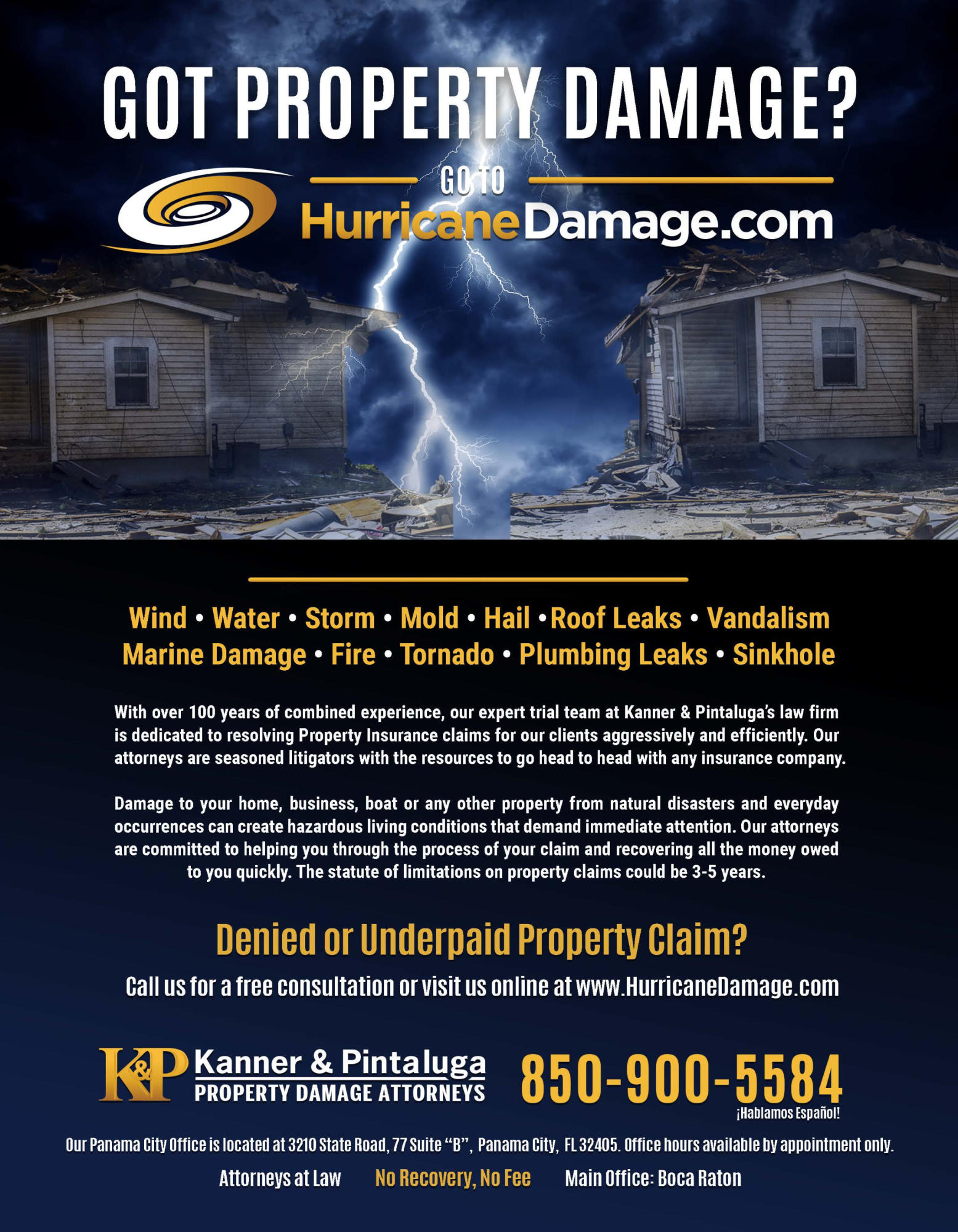 ---
Images